Banff Centre Mountain Film and Book Festival is the largest, and one of the most prestigious, mountain festivals in the world. Hot on the heels of the festival held every fall in Banff, Canada, the Banff Centre Mountain Film Festival World Tour hits the road.
With stops planned in about 550 communities and more than 40 countries across the globe, this year's tour features a collection of the most inspiring action, environmental, and adventure films from the festival. Traveling to exotic landscapes and remote cultures, and bringing audiences up-close and personal with adrenaline-packed action sports, the 2018/2019 World Tour is an exhilarating and provocative exploration of the mountain world. From approximately 400 films entered into the annual festival, award-winning films and audience favorites are among the films chosen to travel the globe.
Ticket proceeds benefit The Denali Foundation. The mission of The Denali Foundation is to develop, support and fund community outreach programs that promote youth and family engagement in the outdoors and to protect access to local green spaces.
Lineup of Films: (subject to change)
- Dreamride 3
- Boy Nomad
- Far Out: Kai Jones
- This Mountain Film: Coast Range Traverse
Intermission
- Surface
- Brothers of Climbing
- For The Love of Mary
- Ice Palms
- Skier Vs. Drone
Tequila & Taco Happy Hour
Due to popular demand, Max's Tequila & Taco Happy Hour returns for BANFF - featuring live music and tequila sampling from 5-7pm. Entry to Tacos & Tequila is free with ticket to BANFF Mountain Film Festival.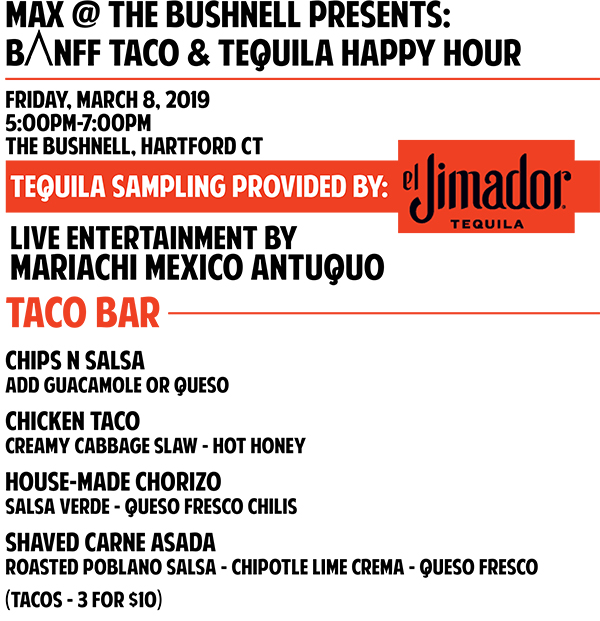 For a PDF of this menu, click here.
William H. Mortensen Hall